AC Milan's pursuit of a striker took them right down to the wire on deadline day, but they were eventually able to complete the permanent signing of Luka Jović.
Just two hours before the game against Roma at the Stadio Olimpico, the official website confirmed that Milan had acquired Jović from Fiorentina on an initial deal until June 2024.
It was initially thought that it was a season-long loan deal from La Viola, but it later filtered that the Rossoneri had landed the 25-year-old on a free transfer and a one-year contract that can be extended further.
A few years ago Jović's name was one of the hottest in Europe but the last three or four seasons have been tough. Our writer Rohit Rajeev has taken a look at the 10th and final summer signing.
Back story
Jović was born in Loznica in the former Yugoslavia on 23 December 1997 and he was raised in the small village of Batar near Bijeljina. He had Bosnian Serb parents, one of which (his father) was called Milan, while his mother is called Svetlana.
At the age of five he began playing for his local side Loznica and he was spotted and asked to participate in 'Mini Maxi' which is a development league for kids aged between 4 and 12 in Belgrade.
He netted a hat-trick, and his father was offered offered €50 for each game his son played and 2,000 dinars (about €17) in travel costs from Batar to Belgrade.
Red Star scout Toma Milićević watched him closely and invited him for trials there, while at this point comparisons Darko Pančev and Radamel Falcao – the latter of whom is his idol along with Zlatan Ibrahimovic – began to manifest.
Jović was offered a spot in the Red Star academy in 2005 but his father took him to train for their fierce rivals Partizan to try and get a better deal. They duly offered his father €200 per month for his son to play there, but Luka had his heart set on Red Star.
In May 2014, at the age of 16 years, five months and five days, Jović made his professional debut against FK Vojvodina breaking Dejan Stanković's record as the youngest goalscorer in a competitive match in the club's history.
The opportunities continued to come and in May 2015 he signed a three-year contract with Red Star. After five games in the 2015–16 season he had three goals, but then a sour note came along.
In November 2015, a 'racketeer' from Loznica threatened Jović and his family that if they did not pay money to him they would break his legs, though he was arrested.
Jović's exploits were beginning to attract interest from European clubs and in February 2016 he signed with Portuguese champions Benfica. With Red Star he played 48 matches scoring 13 goals, while he debuted for his new club on 20 March that year.
In June 2017, another new chance presented itself as Jović joined Eintracht Frankfurt on a two-season loan with an option to make it permanent. He made five appearances as they won the 2017–18 German Cup, and scored the winner in the semi-finals.
They day that he really became a household name was 19 October 2018, when he scored five goals in a Bundesliga game against Fortuna Düsseldorf as Eintracht won 7-1. In March 2019, he scored the only goal to down Inter in the Europa League and book their place in the quarters.
His loan was made permanent, and in May 2019 he bagged in both semi-final legs of the Europa League against Chelsea but they lost 4–3 on penalties. Jović managed to score ten goals in total in the Europa League season.
Then came the massive step. Jović signed for Real Madrid for a reported €60m on a six-year contract that following summer, leaving the German club after 75 appearances in which he had scored 36 goals.
The move to Los Blancos proved to perhaps be too soon for the Serb as he struggled for playing time and to stay fit, so in January 2021 he was loaned back to his former club Eintracht Frankfurt until the end of the season.
On 17 January – in his first match back with his former club – Jović came off the bench and scored twice in half an hour to win a game against Schalke. Nonetheless, his deal at Real ran out and he had another decision to make.
Back in July 2022, Fiorentina announced the signing of Jović on a free transfer and he would go on to make 50 appearances for them across all competitions, with 13 goals scored and most coming off the bench.
With the Serbian national team Jović boasts 30 appearances with 10 goals to his credit, having been prolific at U17, U19 and U21 level, making his senior debut for his country in 2018 aged just 20.
Playing style
Jović is a more traditional striker rather than the modern striker who is more involved in the build-up.
The most important thing needed for a striker is finishing and Jović is a striker who possess some lethal finishing. He can shoot on goal and score from most positions around the penalty box.
— Rohit Rajeev (@keralista_v2) September 5, 2023
Even though he is only 181cm tall compared to Olivier Giroud's 193cm, Jovic is an extremely good in the aerial department. He is also a good acrobatic finisher, as seen in his goals against Inter for Fiorentina.
— Rohit Rajeev (@keralista_v2) September 5, 2023
Jović's most potent weapon is his ability to deceive defenders in the box. He can shift his runs rather quickly and change direction to deceive defenders and run into space.
— Rohit Rajeev (@keralista_v2) September 5, 2023
The 25-year-old is more comfortable playing in a two-striker formation rather than a single striker system as he is not comfortable in hold-up play. This means that whenever Frankfurt wanted to go long, they had to aim at Sebastien Haller.
Jović also likes to make late surges into the box by making runs on the blindside of defenders, given that Haller would be the obvious target to cross to leaving space elsewhere.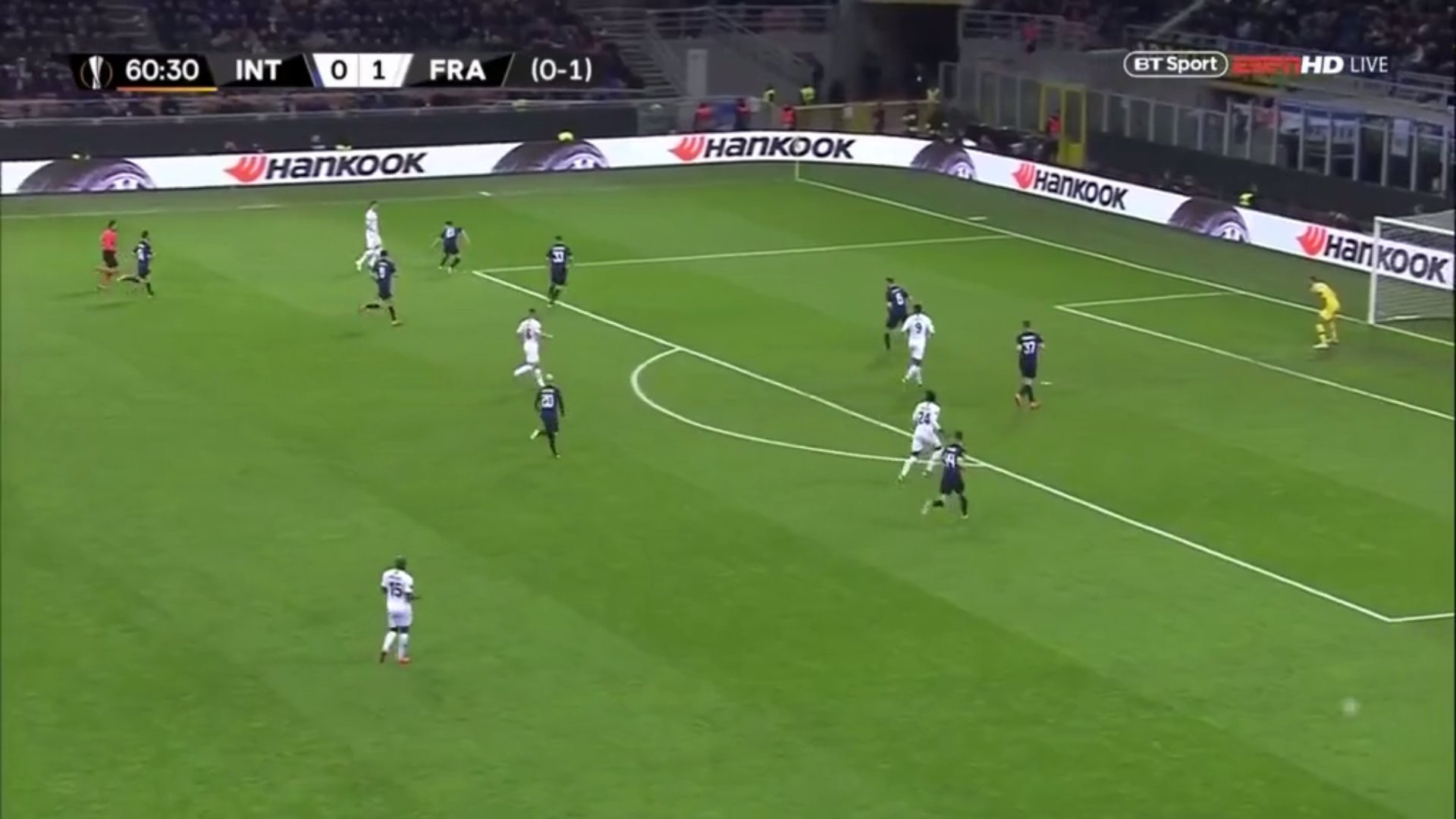 Jović's pace is also something that defenders must be wary of as his acceleration over a short distance can give opponents much less room and time to react.
— Rohit Rajeev (@keralista_v2) September 5, 2023
His good first touch and technique give him the ability to link-up with his team-mates very well. Jović likes to receive the ball with the back to the goal, allowing team-mates to continue their runs while he turns and passes the ball. This makes him a very potent weapon during counter-attacks.
Statistics
For someone who is proficient in statistical analysis, they could easily give an explanation as to why Jovic's numbers have faded since his first spell in Germany.
In 2018 he over-performed his xG which means that he scored goals from very difficult chances whose probability of going in is very less. Thus, when the law of mathematics when the averages corrected itself Jović seemed an ordinary striker.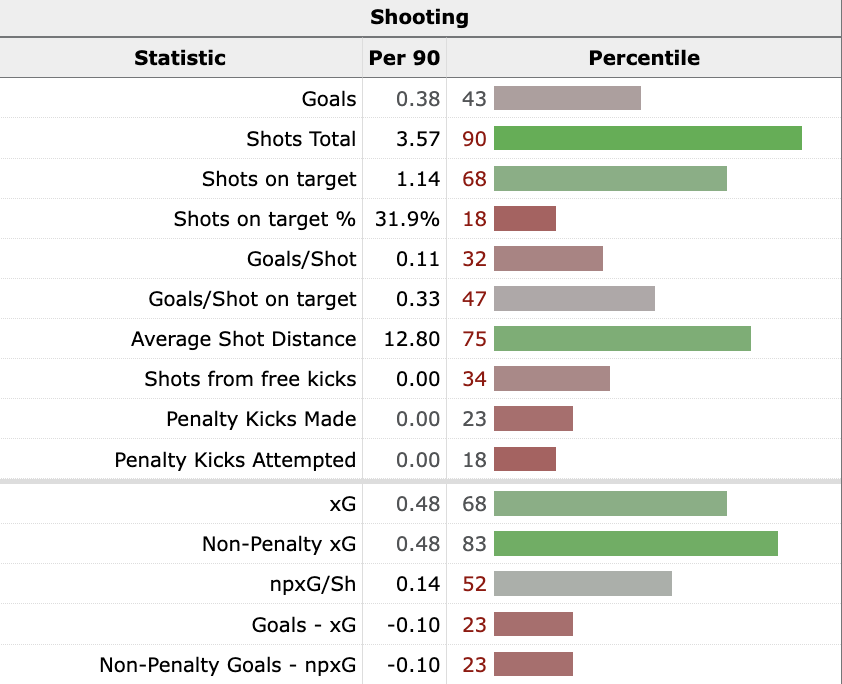 Last season he has underperformed his xG massively according to Opta via Fbref. He was -1.9 in his G-xG which means he has scored at least 4-5 goals less than what he should be doing.
He takes his shots from a distance of 13.3 yards which means he shoots mostly from in and around the penalty spot.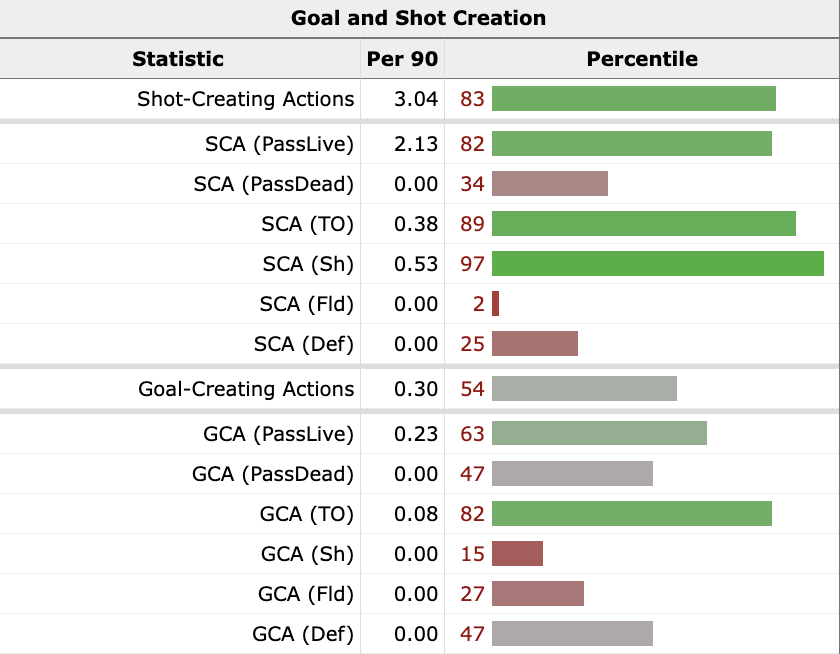 Conclusion
Jović is what seems to be a low-risk potential high-reward signing. If he underperforms then Milan can let him go after this season, but if he does do well, the Rossoneri might have found their long-term successor to Giroud given the Serb will be 26.
The striker is at a crossroads in his career, so much so that if he fails at Milan he may not see the top echelons of football for a while. It is close to a 'last chance saloon' type situation.
Jović was never trusted at Real Madrid by Zinedine Zidane and given how he had Karim Benzema in monstrous form it was always going to be hard to get game time.
At Fiorentina, Vincenzo Italiano seemed to prefer more ball-playing strikers in the form of Arthur Cabral and now Lucas Beltran.
Some fans will be disappointed at Jović's arrival given the links to Mehdi Taremi among others, but this could yet be a gamble that pays off.
Transfer rating: 6/10