Paolo Maldini is often a mysterious man when it comes to the media and gives little away when he does appear in front of the camera generally, but he lowered his guard after Tuesday's defeat against Inter.
Maldini as the technical director of Milan has often reflected the club's ethos: composed when speaking in public, without raising controversy and always acting in a manner that echoes the class of the institution he is representing.
He is often quite restrained in what he says, talking about things in a matter of fact way and remaining more on the optimistic side about the past, present and future when it has in recent weeks been a lot easier to be forthright.
That is not to say that he was totally out of line with the comments made following the Champions League semi-final second leg defeat against the Nerazzurri, though it did not need a microscope to read between the lines of what he was trying to say.
You can read the full interview with Maldini here, but below we have picked out some of the key excerpts and examined exactly what they mean, starting with a reflection on the two games against Inter themselves.
"The gap is real. It hasn't been a contest in the last four games against them. Today we played a little better, but it was compromised by the first leg," he said.
"It's Inter's way of playing that bothers us and we're unable to find countermeasures, then we have also struggled against teams less strong than Inter in the recent period."
Nobody can doubt that this is obvious frustration aimed at the fact the team were unable to compete against Inter over the last four games against them, which yielded four defeats and zero goals scored, including a Supercoppa final defeat and losing both legs of the semi-final.
Going one further, it seems to be an obvious jab at Stefano Pioli. While doubts about the future of the head coach continue to swirl, to say that Milan were 'unable to find countermeasures' against the Nerazzurri is admitting to failing at something that clearly lands under the responsibility and remit of the coach.
Not only that, but Maldini also mentioned that the Rossoneri are continuing to drop points against the lower-ranking sides in the league, as if to say it is not just Inter – admittedly a quality side – that are putting Milan in trouble, but practically everyone they face.
Those are damning things for Pioli to hear and they certainly do not boost his job security after a season in which the team have failed to mount a Scudetto defence, lost in the Supercoppa final by three goals and were dumped out at the first stage of the Coppa Italia.
The director was then asked a rather intriguing question: 'How would you rate Milan's season with qualification for the next Champions League?'
"It would be 8/10. We said it last year: we're not yet structured to compete in two competitions, we told the press and our owners, they know it very well. It's a path that has brought great sporting and economic results," was his response.
Once again, it does not take a magnifying glass nor a littérateur to establish what Maldini is saying. While there is still the chance of ending the season on a positive note, it is only a top four finish or Champions League qualification via the method of a Juventus penalty that would make it one to remember.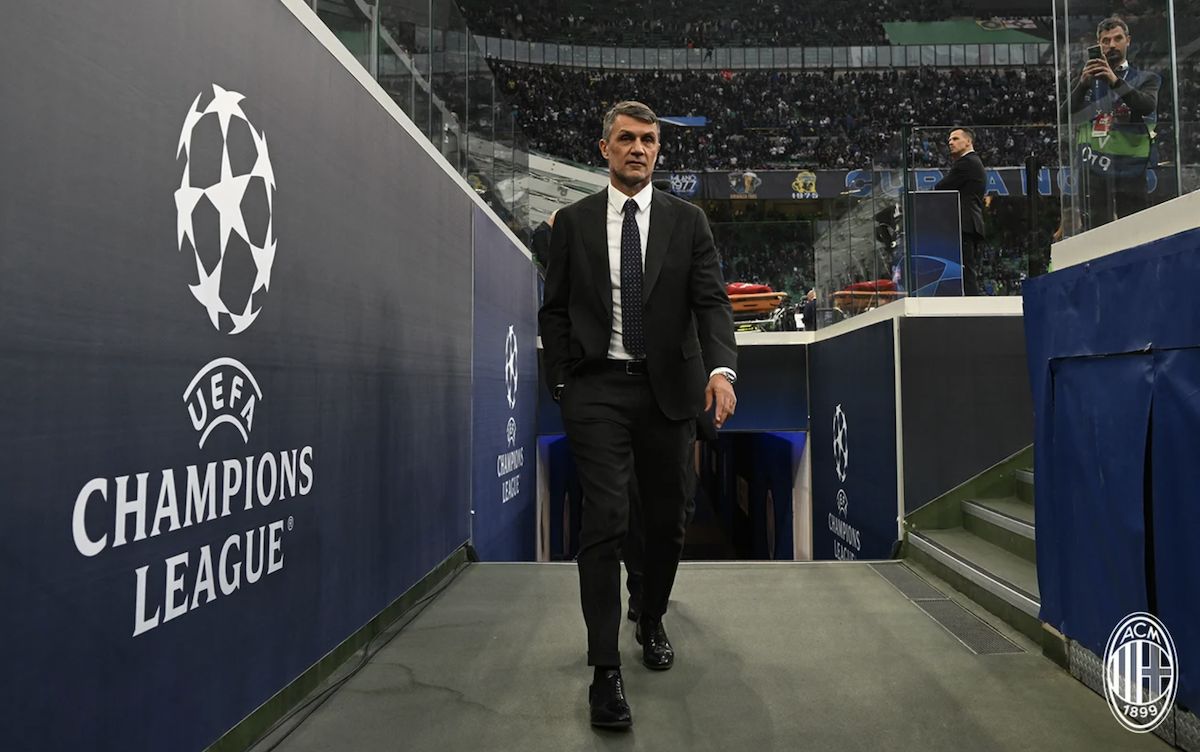 Just like he did last May after the Scudetto victory, the former Rossoneri captain felt it was important to highlight that ticking off a first UCL semi-final in 16 years is not a finishing point but a starting point, and that the team were in fact lucky to get that far to an extent.
The fact Milan are 'not yet structured to compete in two competitions' carries a lot of implications in itself.
Firstly, it is an acknowledgement that there is not quality depth within the squad, something that it is partly his duty to guarantee.
Secondly, it is perhaps somewhat of a justification for Pioli's decision to rotate so heavily in league games that fell before or between Champions League legs, which resulted in crucial dropped points in Serie A.
In addition to that, the fact Maldini mentions 'we told the press and our owners' that the club are not equipped to challenge for the title and go deep in the Champions League (which is presumably an ideal season) makes it known that discussions were had with RedBird Capital in which it was made clear the squad is far from complete.
Maldini also mentions that the journey has thus far brought 'great sporting and economic results'. From this we can infer that the director feels he – along with sporting director Ricky Massara, chief scout Geoffrey Moncada and probably Pioli too – have so far perfectly juggled the balance between on-field success and the off-field resurgence in the accounts.
Now, however, we can clearly see that he feels it is the time to invest in the squad in order to continue bridging the gap not only with the elite sides in Europe but also with Inter, as he said before the first leg.
The notion of the Milan team having their appetites satisfied after the Scudetto win was put to Maldini, implying that they don't have the same hunger to do well in Serie A as they perhaps did last season.
Maldini's response: "No, you only have full bellies when you get certain results, when you win over and over. Being back at this level must be exploited, also economically by investing to stay in the top four and do well in Italy."
It is another call from the 54-year-old to capitalise on the momentum that has come from the transformation in fortunes on the field over the past three seasons to push the boat out a bit more in terms of spending.
Otherwise, there is the possibility that the project will stagnate or even worse go backwards. As mentioned before, this is not the end goal but rather an intermediary step, and the ambition is there unequivocally to restore Milan to being among Europe's elite.
Once again the concept of 'investing' is mentioned. Perhaps this can be construed as a hint that the investment in terms of funds available for the market was not made available last summer, when the momentum was at its highest but the change of ownership was taking place.
What is more likely is that Maldini is using the two results against Inter – a club Milan were better than last season in league performance – and the disappointing Serie A campaign to prove that funds are needed for a mini-overhaul of sorts.
Finally, we come to perhaps the most interesting comment of all, which was regarding the first season that Charles De Ketelaere has had since his arrival from Club Brugge for over €30m.
"De Ketelaere is an example of a player who needs to grow, it's normal. It would have been much easier and much less expensive for us to go for Dybala. But would it have been the right signing for our project? Would it have been shared by our owners? No. We know we have an idea and we have the will to build a young and talented team."
This is the response that has the most to dissect. The first part is a quite obvious public backing of De Ketelaere and a reiteration of the patience that is needed given that he is only 22 years of age and has had his first season at a new club in a new league, with a new country and culture to adapt to.
What seemed to get Milan fans going on social media was the name drop of Dybala, which was a bit out of the blue given he was not mentioned in the question.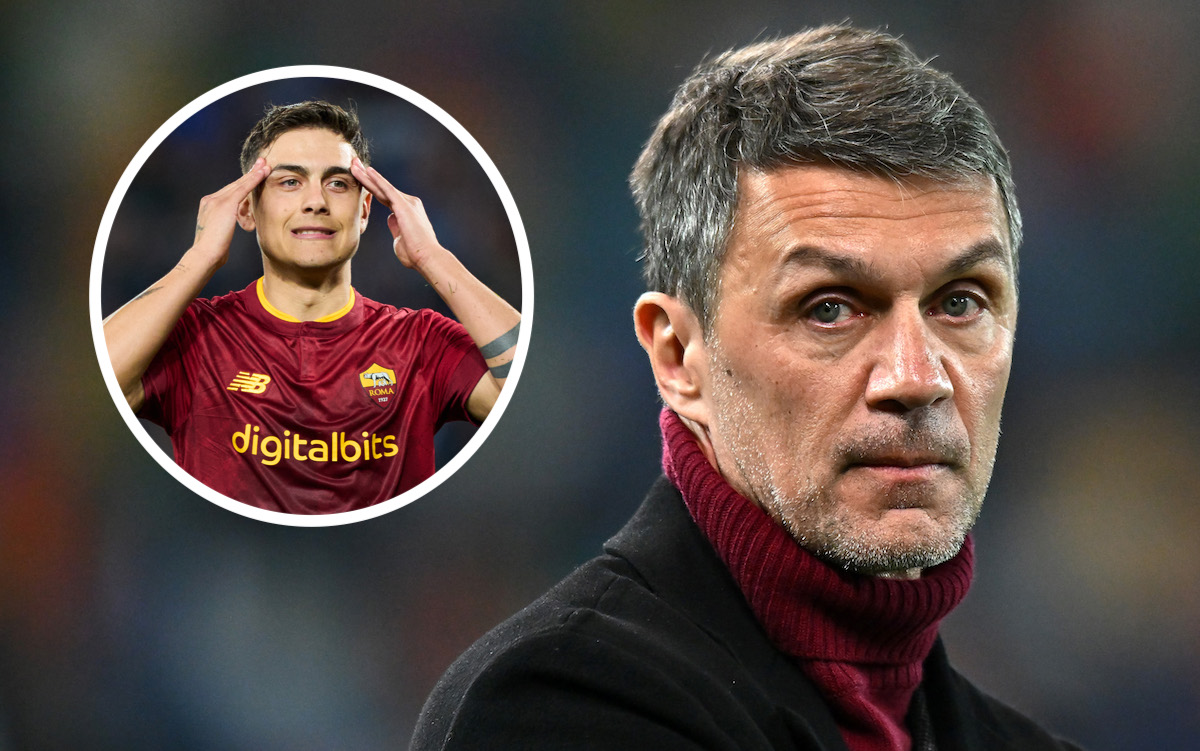 Maldini talks about how it would be 'cheaper' to have signed Dybala, which is obviously true given that De Ketelaere cost €32m plus €3m in bonuses and earns €2.2m net per season having signing a five-year deal, which makes a total investment (including gross salary with Growth Decree) of potentially €51.5m.
By comparison, Dybala is rumoured to be earning €4.5m net per season plus €1.5m in potential bonuses on a three-year deal, which is a possible €18m in total given that the Growth Decree cannot be exercised.
There is quite a difference in investment therefore, but it is the Argentine who has given far more to his team. He has 16 goals and 8 assists in 36 games across all competitions this season, while the Belgian has just 1 assists and 0 goals in 38 appearances.
That is potentially what Maldini means about it being 'easier' to sign a profile like Dybala. It is possible he is referring to the fact there was no club to negotiate a transfer fee with given talks with Club Brugge over CDK dragged on for weeks, but it could also be the case that he knows the 29-year-old would contribute more in the immediacy and raise the level of the team instantly.
The rhetorical questions that follow regarding whether signing Dybala would a) be the right signing for the project and b) be approved by the owners is an affirmation that there seems to be an agreement from the upper management to the technical area that they are focusing on investments in young players.
A valid counter-argument has been raised since, namely the one that Milan were supposedly geared around recruiting young players yet they decided to give Divock Origi a deal worth €4m net per season and signed him on a free transfer, thus negating the notion that the owners would have immediately vetoed the signing of Dybala.
Perhaps De Ketelaere is not comparable to Dybala in terms of the contribution expected immediately, the price tag, the age and the potential, but if feels like Origi is a very fair comparison and one where Maldini's 'idea' crumbles a bit.
Directors who show their face in front of the camera and answer the tough questions that fans want asking must always be given a degree of respect, and to do so in the heat of the moment after such a difficult defeat was also commendable from Maldini.
It was perhaps his most honest interview of the season with plenty of interesting comments to go on; now we must see what results and if there is the possibility some of the inferences and implications accelerate from here.