Stefano Pioli probably thought he had cracked the code after AC Milan had their February resurgence, but the misery of March has opened up fresh uncertainties about his side.
The switch to a three-man defence after the torrid run of form that started in January seemed to have fixed a leaky rearguard after wins against Torino, Spurs, Monza and Atalanta without conceding, but now the Rossoneri have conceded six goals in their last three league games against Fiorentina, Salernitana and Udinese.
All of a sudden rumours are rife about a potential change in system once again that would take place after the international break with the most daunting league fixture of the season next up as Milan travel to face Napoli at the Stadio Diego Armando Maradona.
The decision to move away from the 4-2-3-1 was one brought about by how badly Milan were getting overrun and how often they were getting caught in transition, while the 3-4-2-1 that emerged after did a good job of hiding the deficiencies at first at the expense of free-flowing attacking play.
Ultimately things degenerated to the current moment, which sees a defence unable to keep out goals and a forward department unable to score them either. A good formation should both accentuate the strengths of a team but also limit any weaknesses in the non-possession phase too, and with that in mind it is time to propose the 4-3-3 hypothesis.
Leao role
First and foremost it must be said that a formation cannot be built around one player, however it should be one that puts your best players in the right situation to succeed, which brings us to Rafael Leao.
It is over two months since Leao's last league goal against Lecce at the Stadio Via del Mare which means the Portuguese forward is experiencing one of the most difficult moments since his arrival at the club.
Several factors are affecting what can now be described as a 'crisis' which seemed to hit a low point during the performance he offered in the 1-1 draw against Salernitana earlier in the month during which he gave the ball away nearly every time he got it.
Pioli's decision to change formation and tactical approach sees Leao playing narrower, something that doesn't provide the same situations for the former Lille man to exploit compared to the 4-2-3-1.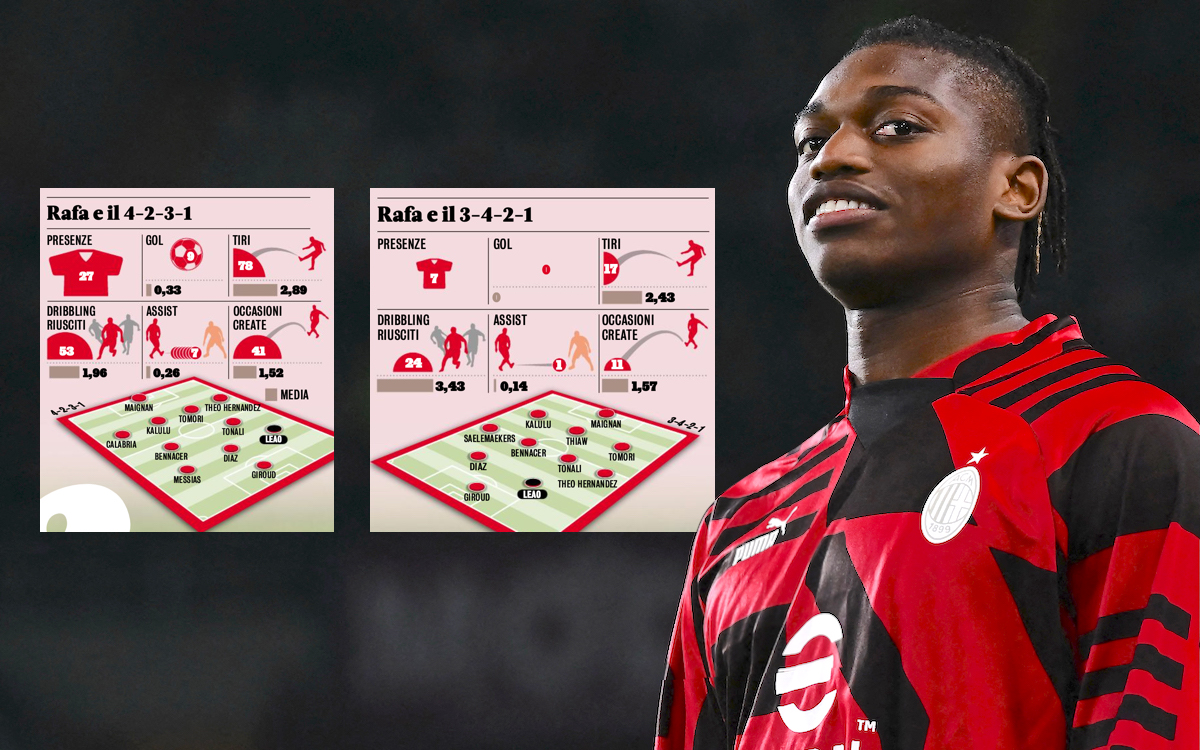 Playing as he does as almost a left-sided attacking midfielder means he is playing centrally off Oliver Giroud, and there is quite simply not the equivalent amount of space to operate in as he did out wide.
Leao thrives in one-on-one situations against defenders, when he can get them squared up and drive to the byline or cut inside onto his right foot, but he has been doing far too little of that of late.
Leao has never been a glowing example of consistent performances even if last season he took a big step forward, and his unresolved contractual situation might be the other thing on his mind it must be said, but Pioli can help him emerge from this slump by going back to basics.
Removing a weakness
Sticking with the attacking department, the one position where Milan have struggled above all this season (and arguably the last couple) is in the playmaker role behind the centre-forward.
The investment of over €30m on Charles De Ketelaere was supposed to fix that yet the data suggests he has never excelled in that role, while Brahim Diaz has been up and down and Yacine Adli has barely got a look-in.
That means at the moment there is no one player who has taken absolute ownership of the No.10 position, and if anything the abject performances from those who try and do it was no doubt one of the reasons Pioli went with more of a 3-4-3 with wide forwards rather than a 3-4-1-2 for example.
Quite simply put, if there is nobody in the squad at present who warrants the role or provides Pioli with the assurances that he needs from an attacking midfielder in pressing and coverage, it is better to not bother at all.
Round pegs, round holes
When taking a look down at the list of players that Milan have at their disposal, it becomes apparently that playing with three midfielders and a front three seems to be the best fit for the vast majority.
Starting with the defensive department, Pioli is quite lucky to have a number of versatile players at his disposal in terms the flexibility in roles, with Theo Hernandez able to play full-back or wing-back and Pierre Kalulu having switched between centre-back and right-back.
However, Fikayo Tomori and Malick Thiaw are certainly out-and-out centre-backs as are their deputies Simon Kjaer and Matteo Gabbia, while captain Davide Calabria and his back-up Alessandro Florenzi are natural full-backs.
Moving forward, that means there is the potential to play a back four of Kalulu-Thiaw-Tomori-Theo for maximum athleticism or perhaps Calabria-Kalulu-Tomori-Theo to get the Scudetto-winning defence reunited.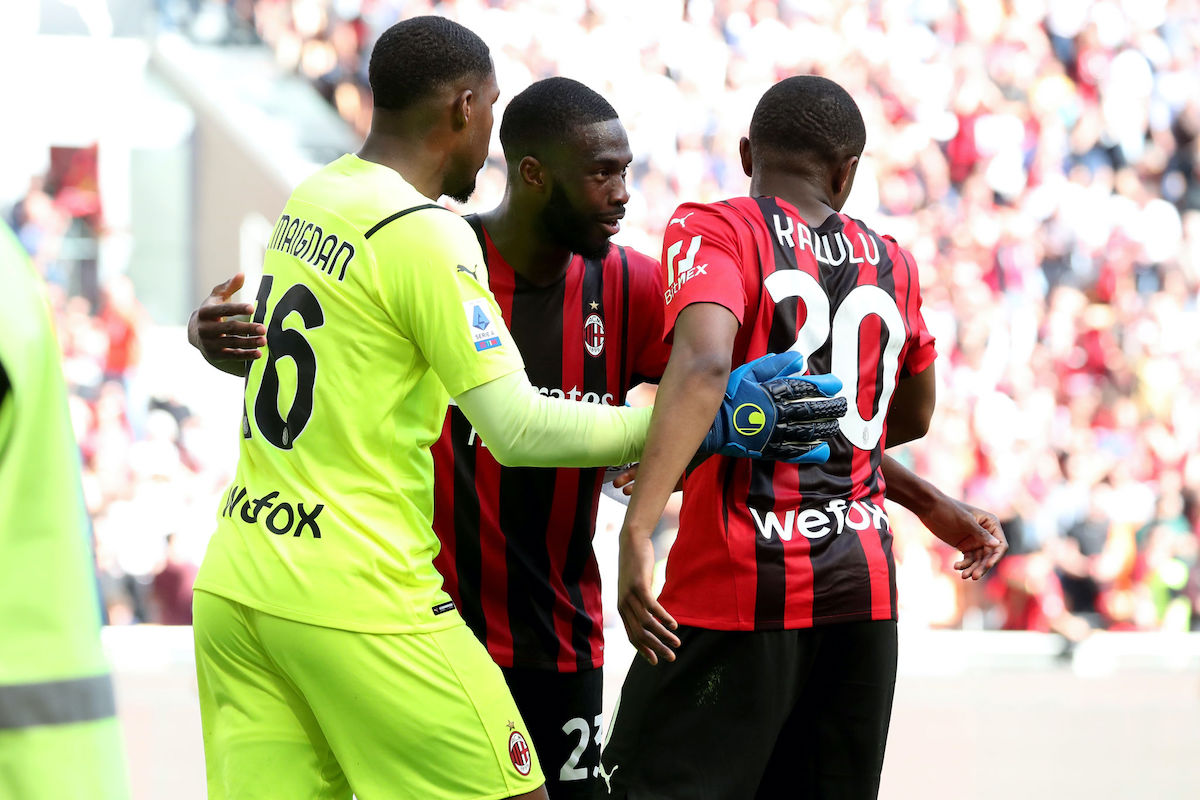 Moving into midfield, the presence of Ismael Bennacer and Sandro Tonali is not under threat, with the likes of Rade Krunic, Yacine Adli, Tommaso Pobega and Aster Vranckx all giving the impression that they would look more comfortable and could show their qualities more in a three.
The attacking department also does not require brain surgery. There are natural left wingers in Leao and Ante Rebic, natural right wingers in Alexis Saelemaekers and Junior Messias, and the centre-forwards like Olivier Giroud, Divock Origi and Zlatan Ibrahimovic.
What about De Ketelaere and Brahim Diaz? The Belgian can play on the right but seemed at his best as a false nine at Club Brugge – something that can be replicated in the 4-3-3 with the centre-forward dropping in to participate in build-up play – and the Spaniard looks at his most dangerous wider where he has more space to operate and isn't crowded out quite so often.
The engine room
The strongest argument for switching to the 4-3-3 might just be what it would mean for the midfield. As mentioned, Bennacer and Tonali find themselves being heavily relied upon this season because the alternatives are not up to scratch.
The fact of the matter is that the Algerian and Italian both looked better with Franck Kessie next to them, as the Ivorian did a lot of what would be considered the 'dirty work', shielding the back four with his physicality by winning duels and distributing simply.
The Ivorian contributed to the Scudetto win with 6 goals in 31 appearances but putting that to one side, whoever has tried to replace him in the midfield pairing this season has not even come close to the levels of the current Barcelona man.
Aster Vranckx has not started a league game, Yacine Adli only one and Tommaso Pobega six times, with one goal between them. Simply put, there is no third starter-level player like last year when Kessie, Tonali and Bennacer often rotated seamlessly.
It is also worth remembering that Pioli used Kessie's physicality not only in the midfield but also as an attacking midfielder. Last summer, to add creativity to the department, the club chose to go all-in for De Ketelaere who is a very different mould.
The lack of balance in the engine room has exacerbated the problems behind and in front. The compactness of the team is no longer there meaning the defence have been left more exposed whether formed by three or four, while the lack of ability to control the tempo of games and build play without mistakes has stifled the attacks.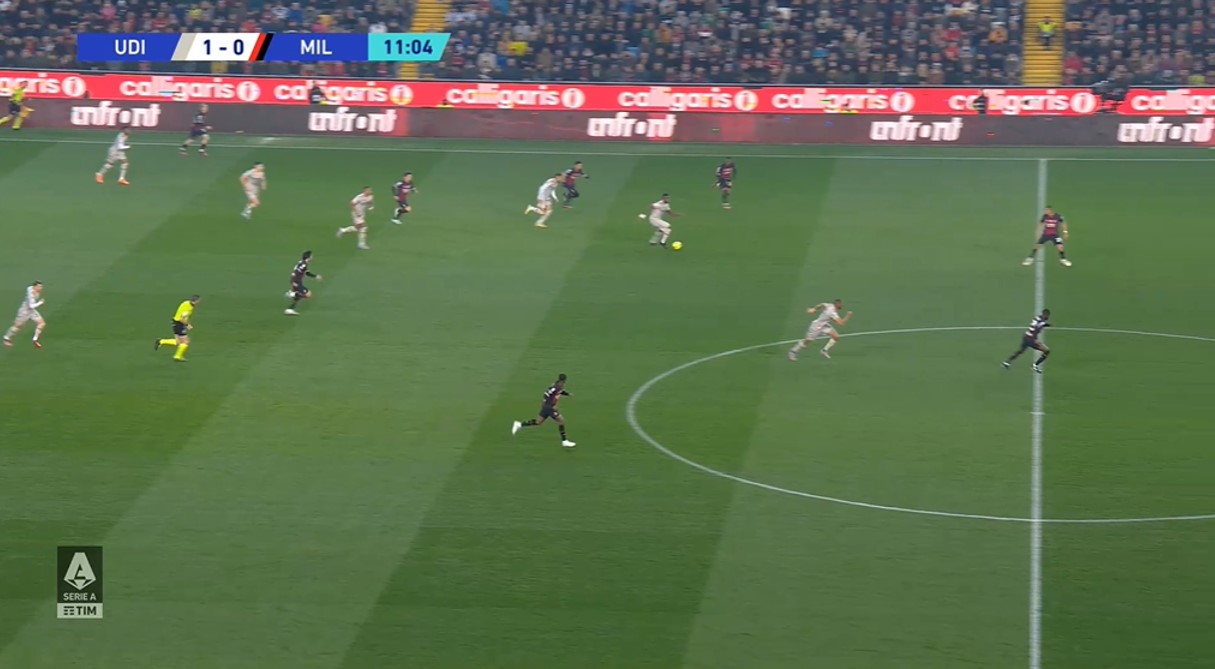 Ultimately the signing of a new central midfielder will become a priority in the summer but the need is there now to help Tonali and Bennacer. There is an obvious candidate to become the third midfielder too in Rade Krunic, who Pioli has constantly relied upon and is a box-to-box midfielder by trade.
Milan could move to playing Tonali at the base of the three just as he did at Brescia where he looked very comfortable in a worse side, and then Bennacer and either Krunic or potentially even Adli, Vranckx or Pobega could act either side to help cover in the non-possession phase while also providing options to drive play forward to the wings quickly, by pass or dribble.
Chameleonic power
Pioli has often spoken of his desire to create an unpredictable and chameleonic side, and the Rossoneri coach has repeatedly admitted that he has been working on different tactical set-ups so the team have more solutions moving forward.
Switching to the 4-3-3 would not mean having a rigid system where everyone must stick to their roles during games because positional interchange is what has often given Milan an advantage against sides who set up to contain with a deep block.
With a four-man defence on paper there is the possibility to morph into a three-man back line still when Theo Hernandez pushes up the left side or into midfield, as Kalulu or Calabria can tuck in to help protect the centre-backs.
In addition to that, there is the possibility of detaching one of the midfielders to join the front line in more of a 4-1-4-1/4-2-3-1 as we have seen at times already with Tonali playing between the lines to help break down sides defending deep.
It also helps with building out from the back. With Maignan fit again, the Rossoneri can start the action with only two defenders in front of him – practically in line with him – and consequently push the full-backs up.
The former Lille man's ability with his feet allows him to play short to attract the opponent's pressing and then go long with precision, especially towards the full-backs or towards Giroud.
That allows Milan to exploit parity or even numerical superiority in the opponent's half, then gathering to pick up on the second ball thanks to the fact the midfielders and attacking midfielder are able to advance too.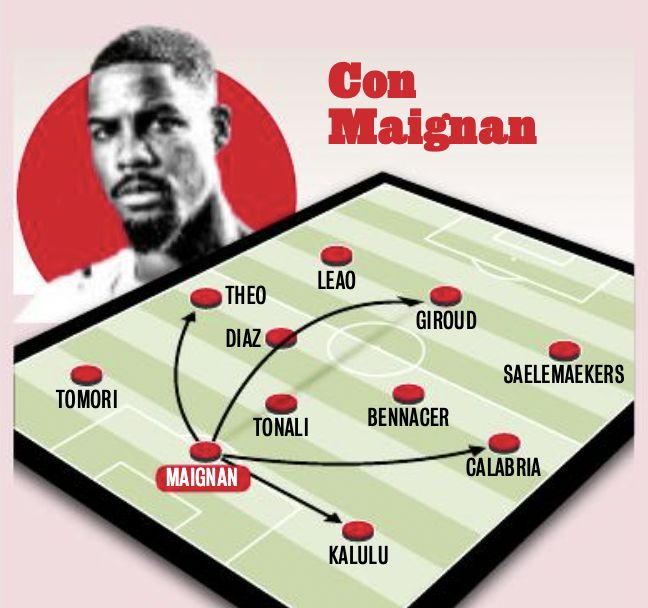 Conclusion
There is a precedent of the 4-3-3 working in a huge game for Milan, namely the one against Napoli last season away from home. The decision was taken to try and stifle the dangerous trio of Fabian Ruiz, Stanislav Lobotka and Piotr Zielinski by playing Kessie, Tonali and Bennacer together.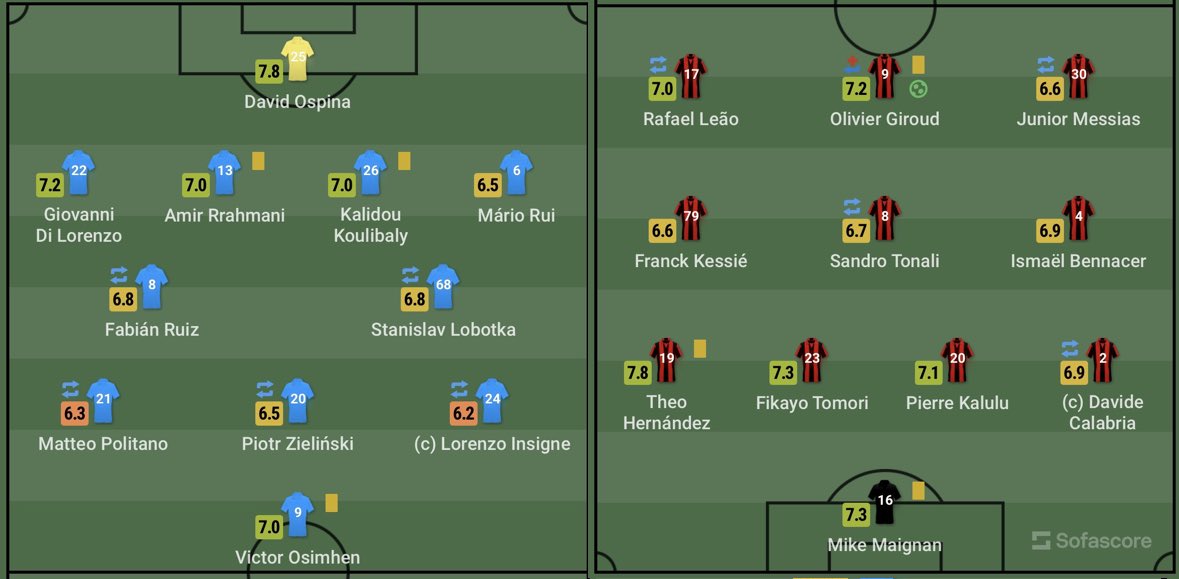 The end result was a 1-0 win thanks to a Giroud goal and a clean sheet that seemed unlikely before a ball was kicked. The next game after the international break being Napoli away is an almost spooky coincidence.
It is far too simplistic to think a simple formation change on paper will fix a lot of the issues Pioli faces, however it is more about providing fixes for the individuals and how they operate which contributes to a better and more stable collective.
Putting players in their preferred roles, providing them with a greater feeling of security and going back to the principles that made the team so successful last season would certainly be a positive start.